Madison Fence Materials For Sale: Top Rail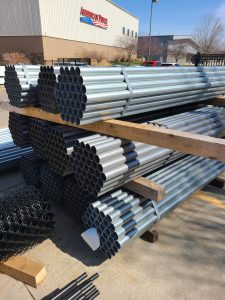 There is a reason that chain link has been a standard in both the commercial and residential markets for years. It provides a sturdy and strong, yet lightweight, secure perimeter to your property. AmeriFence of Madison's 1-5/8" CR30 Top Rail comes in 21' lengths and has been engineered specifically for industrial applications. Rather than being hot-dipped, the CR30 is cold-rolled to increase the strength and durability. It is lighter and more cost-effective than schedule 40 pipe. It also beats schedule 40 in cantilever load, bending, and tensile strength.
AmeriFence of Madison also has our own in-house powder coating division. A CR30 top rail with no-mar black powder coat finish is extremely durable and much more scratch and dent resistant than a simple vinyl coating. AmeriFence of Madison's powder coating also beats vinyl coating in UV tests, ensuring that your fence will continue to look great for years to come.
CR30 top rail is a great alternative to Schedule 40 top rail. It is approved for the department of transportation use. When galvanized and clear coated, it exceeds hot-dipped galvanizing in a 1000 salt spray test. Additionally, CR30 gives more control over shape and mold as wells as being resistant to marring and blemishes. CR30 top rail meets ASTM 1043 Group 1C requirements.
Call AmeriFence of Madison today to learn more about our CR30 products. We are your Madison fence company.