Electricians & Access Control Partners in Madison, WI
When you partner American Access Company, you gain additional clients and revenue.
American Access Company:
Installing automatic gates
Welding and mechanical repairs
Gate parts and components
Product demonstrations for customers
Answering customer questions about gates
Electricians:
Installing electrical wiring
Electrical maintenance
Managing project flow
Building lasting relationships with customers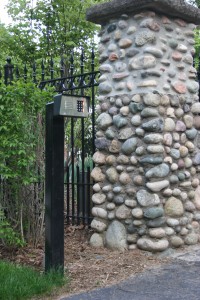 As an electrician, you've no doubt received phone calls about automatic gates, gate repair and maintenance, and access control devices. Demand for automated gates in Madison, WI has increased in recent years; and every customer who wants to boost security with one of these entry systems needs your professional services as an electrician. (Without your installing their electrical wiring, the gate won't operate.) The challenge most electricians face concerns what comes afterward: the installation of automatic gates, gate repair and maintenance, customer questions about operating gates. A better alternative to turning away extra business — or having electricians become masters in all things automated gates — is to partner with an access control company. This way, you can keep the business of customers calling about gates and maintain that additional revenue.
How does it work? Simply put: you take the calls, you install the wiring, we handle everything regarding the gates, and you bill the customer. American Access Company is the leading provider and installer of automated gates in Madison. Our staff is thoroughly trained in every aspect of the gate industry. If you partner with us, we handle all the heavy lifting that comes after your electricians have installed wiring for clients' gates. Gate installation, repair, maintenance, sourcing parts, demonstrating how access control devices work — we handle all of that. (Not to mention we also answer questions customers have about gates.)
Partner With Us
Call 402-896-6722 ext. 308