New PalmSHIELD Product: Aria Louvers
PalmSHIELD's Aria Horizontal Louvers are a genius design! The great Albert Einstein once said: "Genius is making complex ideas simple, not making simple ideas complex." PalmSHIELD believes he would have appreciated the Aria Horizontal Louvers. PalmSHIELD's new Aria Horizontal Louvers give our customers an easy choice for their next architectural screening application. The Aria Louvers are: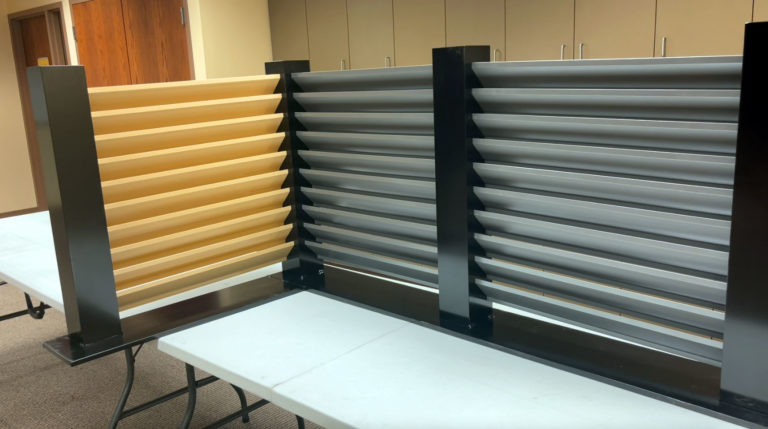 Cost Effective: The new Aria Horizontal louvers are the most economic architectural screening solution in the industry.
Easy. After setting your posts, you will need simple tools to complete your louver assembly. Slide in the louvers, attach the center vertical support with PalmSHIELD provided rivets and rivet tool. This makes the Aria louvers the easiest installation on the market.
Adjustable. This system is field assembled, meaning the louvers can be adjusted for slopes and the post spacing can be customized. An excellent option for rooftop screening applications.
Clean. Aria is a clean design. Posts, louver and center supports. This product is designed to look sleek and clean after installation.
The Aria louvers ship broken down into louvers, posts, post inserts and caps. That's all you need! The Aria louvers feature the quickest and easiest installation available.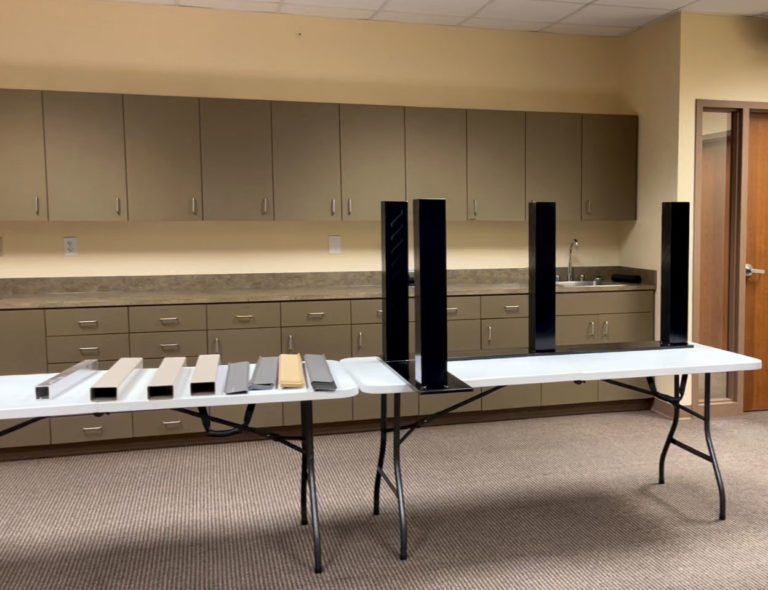 PalmSHIELD's Aria louvers will arrive broken down with all materials labeled and packaged per the provided layout drawing.
Simply set the posts per the drawings. PalmSHIELD will provide an extremely detailed installation drawing for your louvers.
Next, layout the packages of louvers for each opening. Each panel will be packaged separately and labeled on the detailed drawing.
The louvers easily insert into the pre-slotted posts. The slots and louvers are cut precisely for easy installation. The louvers will fit snuggly it the slots with very little gap spacing.
Most panels can be fully assembled in less than ten minutes. A typical six foot tall louvered panel can be installed very quickly.
Once a panel is assembled, attach the center vertical support with PalmSHEILD provided rivets and rivet tool.
Now, move on to the next panel and so on. Ten panels can be easily installed in less than an hour.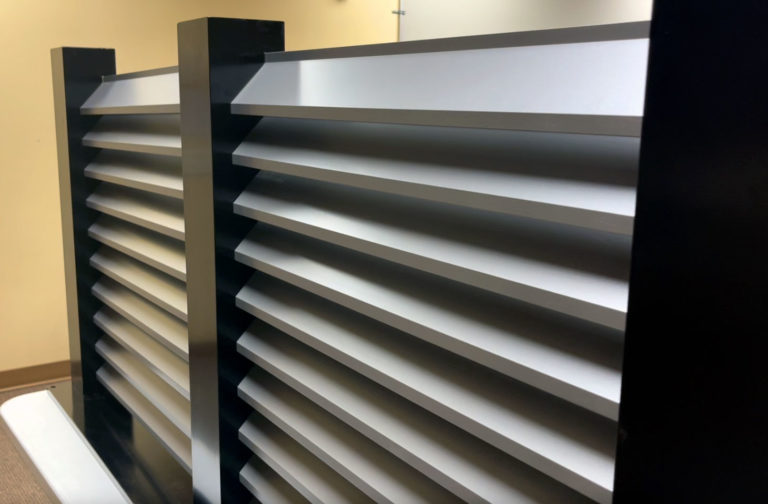 The Aria louver's clever design takes the complex and creates simplicity. This unique fabrication features mirrored slots that are routed a few degrees in opposite directions. This design creates just enough tension on the louvers to prevent any movement in high winds. Our vertical center supports and louvers are pre-punched, making field assembly simple and easy to complete
Einstein states that simplicity is all about bringing order to complex ideas. PalmSHIELD has done just that by taking the complexity of a standard architectural screen and simplifying it for our customers.